The skill A raids are dificultly with clear conditions. Not all people has enough players to clear it easily with auto mode. This post is one of series to guide you clear them, achive 3 ⭐ with Tsubasa Point Rewards. With this result, you could skip the match then get the clear rewards easily.
Stage Features
Opponent's Total Power
1.019.233
Special Skill max level restriction!
Rank C: 40
Rank B: 50
Rank A: 50
Rank S: 30
Non-JY Players
Stats -70%
Clear Rewards
Fighting Nobleman
70%
Obtainable Skill
Drive Pass A
315/185
Player
Club
+25000
+2500
+500
Clear Conditions
Asia Qualifiers All-Stars
Win the match!
Drive Pass A
This pass gives the ball a vertical spin. When first kicked the ball has a high trajectory that makes it difficult to intercept, and it then spins downwards, landing at the receiver's feet.

Who are using Drive Pass A?
There are many players who can perform Drive Pass A. That's why it's common special skill.
Opponent Line-up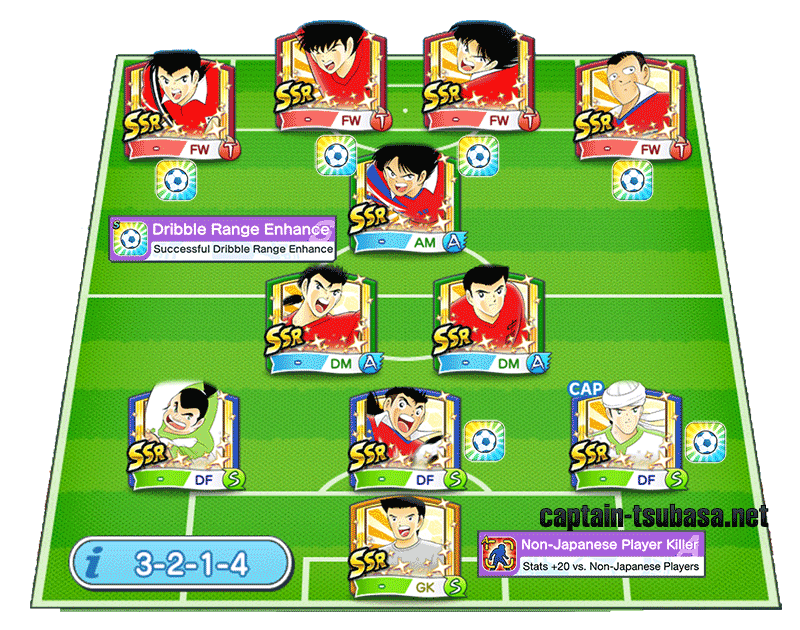 Stage notes:
Your line-up squad must based on Junior Youth players. If not, Non-JY players stats will be decrease 70%.
Wu Junren hasn't tackle skill, you can use driblle skill to by-pass him easily. Recommend JY players who have dribble skill enchance.
Opponent's GK is Skill Type and has Non-JP Players Killers passive. The best FW is Kojiro Hyuga – All Japan's Ace Striker (festival version 2), another option is Juan Diaz – Superstar (festival version 1).
All oppnent's forwards are Touchness Type players, So you consider Agile type of JY GK: Zino Hernandez – Perfect Keeper, Deuter Muller – The Embodiment of the World's Wall, Amoros – Insight to Carry France, Zino Hernandez – Sharpened Sixth Sense. Zino Hernandez – Perfect Keeper is very recommend because that player has Touchness killer passive and hidden ability that increase DF/GK stats. If you haven't any good JY GKs, you can choose another good Touchness JY GKs.